Rotary Foundation
The mission of The Rotary Foundation of Rotary International is to enable Rotarians to advance world understanding, goodwill, and peace through the improvement of health, the support of education, and the alleviation of poverty.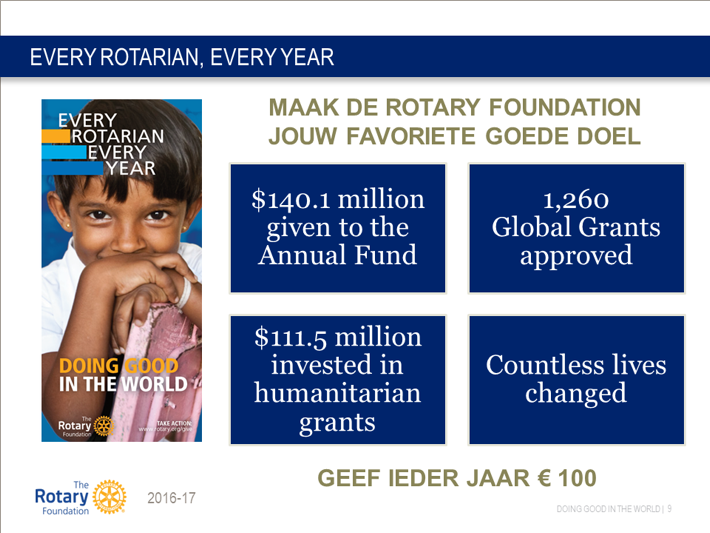 The Rotary Foundation transforms your gifts into service projects that change lives both close to home and around the world. Since it was founded more than 100 years ago, the Foundation has spent more than $4 billion on life-changing, sustainable projects.With your help, we can make lives better in your community and around the world. KIJK HIER voor de meest up-to-date financiele informatie.
Geschiedenis
The Rotary Foundation wordt opgericht in 1917 als een 'endowment fund' (dotatiefonds) door Arch Klumph, de zesde president van Rotary International (RI) met als doel 'doing good in the world', de missie (en het motto) die zelfs na 100 jaar nog altijd opgaat.
Focus gebieden
The Rotary Foundation Annual Report 2019
More than a century ago, Rotary pioneered a new model of service leadership grounded in person-to-person connections. Today, those connections are a network that spans the globe — bridging cultural, linguistic, generational, and geographic barriers — and that shares the vision of a better world.
As people of action, we understand that fulfilling that vision requires a plan. Rotary has adopted a new Action Plan for the next five years: to increase our impact, expand our reach, enhance participant engagement, and increase our ability to adapt. Our plan will provide us with a continuity of vision from year to year, keeping us moving toward our shared purpose.
The Rotary Foundation plays a critical role in fulfilling this purpose. In 2018-19, the Foundation raised over $395 million, surpassing our $380 million goal. We made great progress toward building our Foundation's Endowment to $2.025 billion by 2025.
Rotary leadership creates opportunity — and this year, we saw amazing examples of that leadership across generations of Rotarians. Whether participating in Rotary Youth Exchange, Interact, Rotaract, or Rotary clubs, Rotarians are transforming lives and making a lasting impact. Your continued commitment proves that Rotary is an inspiration to the world.