De Nieuwe Jurk

DE NIEUWE JURK
Take a moment and imagine that you have been forced to flee your country, leaving behind your house, personal belongings, jobs, relatives, friends, family - everything that is dear to you. You arrive in an unknown country as a refugee. You have nothing; everything that was familiar is now foreign, all that used to be comfortable is strange. You struggle to find your way in a place where you do not understand the language, nor its customs or traditions…
What would be your state of mind? Where would that leave you emotionally?
Emptiness, fear and helplessness are what refugees face on a daily basis.
BACKGROUND
When refugee children arrive in the Netherlands, they are enrolled in a language school "taalschool" where they learn Dutch. They attend this school on a daily basis, and usually within a year's time these children are able to go to a regular school with local children.
Adults, on the other hand, have minimal access to such schooling. Aside from the limited learning possibilities, finding opportunities to practice conversational Dutch is difficult. Learning a new language is a challenge in itself, as are the many other hardships a refugee faces, including dealing with the loss of loved ones and the time and process needed to integrate in a new society and environment.
Recently the parents of refugee children have started approached language schools, wondering if they may also attend to learn Dutch. They do not want to be dependent on other people in the society or on their own children to translate and communicate for them. Think how it must feel for an adult when at the town hall, police station or health center, unable to explain a possibly painful story from back home.
For the children this is also a difficult situation. Imagine how children must feel when they hear their parents tell painful and terrifying stories and then have to translate these experiences for others. Think of the lifelong scars it must leave in the hearts and minds of these children. It is so essential that we, "the more fortunate ones", provide opportunities for those who are keen to be a part of our society.
APPROACH
Desiree and Mirjam van Tiel, two sisters with their hearts in the right place, thought of a way to help these adults. The sisters have set up a sewing cafe, 'De Nieuwe Jurk' (The New Dress), located next to the language school in Huizen where locals and local immigrants can meet, chat in Dutch, sew and knit. Participants get to know each other and have the opportunity to share their customs and traditions. Ultimately this leads to an increased level of self-confidence for newly arrived residents, as well as a greater capability to converse in Dutch. The dresses created by the ladies of the sewing cafe will be sold, with the proceeds being reinvested to buy more fabrics and supplies so that 'De Nieuwe Jurk' endeavour can continue to help exponentially more immigrants.
HOW RCHI WILL CONTRIBUTE
Rotary Club Hilversum International (RCHI) has initiated various successful projects supporting refugee children in the Netherlands. RCHI has close affiliation with helping refugee and immigrant families and wholeheartedly support this project, not only financially but also through vocational support.

Since RCHI would like to help 'De Nieuwe Jurk' get off to a flying start, RCHI seeks sponsorship in the form of materials, including sewing machines and essentials necessary for knitting and sewing such as yarn, fabrics, scissors, thread, zippers, buttons, knitting needles and sewing patterns.
Each little bit counts, so please do not shy away from donating anything that you feel appropriate for the sewing cafe. Small gestures make a large impact on other people's lives, and we each have an important part to play in our society.  
RCHI is also requesting financial contributions to support 'De Nieuwe Jurk' initiative.
We would be extremely grateful for your donation! HELP US HELP
We foresee that with your help, either through a material and/or financial donation, 'De Nieuwe Jurk' will be a self-sustaining project within two years time.
Thank You
On behalf of Rotary Club Hilversum International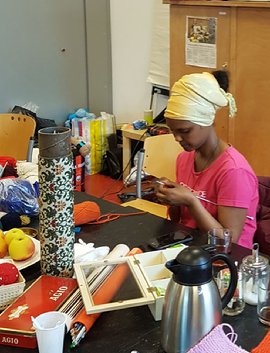 Article in Gooi en Eemland, 28 March 2017
"Samen naaien, breien en kletsen: De perfecte jurk gecreëerd in multicultureel naai-café"