Rotex weekend Brabant 2016
Hieronder vindt u het verslag over het Brabant weekend in Oktober 2016.
Last weekend we had our first rotex weekend for the inbounds. 40 enthusiastic students came to Loon op Zand where they were going to have a fun weekend organized by Rotex. It all started at Boxtel station where they were dropped of by their hostfamilies finishing the DOC. After a lot of trouble we all got on a train to Tilburg where the local rotary club was ready to take us to our accommodation. Once there we started preparing dinner which was a lot of fun. Afterwards we were allowed to have some fun while others did the dishes. After an hour of playing the game 'Werewolves' Rotex decided to play another game, apparently its famous all around the world as it is tradition for the prepounds, inbounds and outbounds to play it. During this game we were supposed to do all kinds of activities like putting as much 'peperkoek' in your mouth as possible, stach 5 apples on top of eachother, or crossdress. Once we finished the game Rotex decided it was time to relax again. We hung out, getting to know each other better. At around midnight it was time to go to bed. The next morning we got up at 8 o'clock, to set the breakfast table and go out and do some morning exercises with Vince, Bram & Luuk. Here we learned to peel a banana while dancing, whick came in handy for breakfast. While having breakfast Rotex told us the activity for the day. We were going to go to the Efteling. Which sounded very exciting. So at 10 AM it was time for us to go, and after getting our tickets we were set loose into the park. Where we had fun all day, riding rollercoaster, meeting the fairy-tails and all the other things people do when visiting De Efteling. Thank you Rotary for getting us to go there. Once back in Loon op Zand, it was time to prepare dinner again. We had an amazing cook from Taiwan making us Chinese eggs. Which was delicious! After dinner we hung out for a while with Rotex, getting to know them as well, before playing another game. Apparently it was a game taken from the TV show 'Lama's' which made it hilarious. Then at 1.30 Rotex told us to go to bed, so we did! The next morning we were allowed to sleep in, which meant we still had to get up at 10AM. After having breakfast it was time to clean & pack our bags. Which of course took a lot of effort. As being an exchange student, cleaning is not our top skills. Thank you Rotex, Rotary & and all the others involved for making this weekend so awesome! We can't wait to be all together again, which will be in two weeks when we go to The Hague!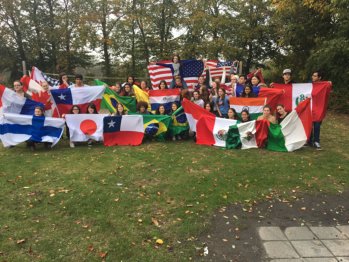 Meer foto's kunt u vinden in het Fotoalbum