2020-2021-presri.docx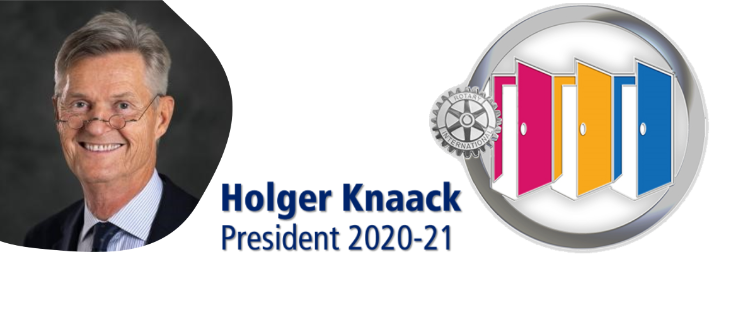 Presidential message March 2021
As someone who knows firsthand the great leadership potential of Rotaractors, I always look forward to World Rotaract Week, which we are celebrating from 8 to 14 March. Rotaractors are the focus of all three of my presidential conferences this year, and I was proud when, two years ago, the Council on Legislation voted to elevate Rotaract by including Rotaract clubs as members of Rotary International. Before that, the Council had already made dual membership possible, and shortly after, the Board of Directors decided to do away with Rotaract's age limits.
But we are only just embarking on our journey together. Partnering effectively doesn't happen by itself. It requires both sides to be open and to understand the value of cross-generational alliances. Louie De Real, a dual member of Rotaract and Rotary, explains.
Joint virtual meetings have helped Rotaractors introduce Rotarians to new ideas and tools, pioneering unique ways for clubs to collaborate. In the case of pandemic and disaster response, Rotaract clubs used social media to coordinate efforts, drive information, and fundraise, while Rotary clubs used their networks and resources to amplify support, provide logistics, and bring the goods and services to communities.
Rotaractors' innovative virtual engagement and professional development activities inspired Rotarians to support and follow suit. The pandemic made Rotaract clubs realize that we can immediately connect and partner with Rotary clubs through virtual platforms. With constant collaboration, we realize that Rotary and Rotaract indeed complement each other — that we are part of a single organization with shared goals.
Both sides add value. Rotarians can be mentors and service partners to Rotaractors, while Rotaractors can demonstrate to Rotarians that difficult jobs can be simplified and limitations can be surpassed through digital approaches. This synergy motivates Rotaractors to become future Rotarians: I joined Rotary because Rotarians gave me memorable membership experiences through inspirational moments of collaboration. I needed to be a Rotarian to inspire Rotaractors the same way, now and in the future.
That same synergy leads Rotarians to realize that while Rotaractors may have a different culture, we all share a common vision of uniting people to take action. Rotaract's unique ways of doing things serve as inspiration for innovation, helping Rotary increase its ability to adapt to future challenges. Rotarians and Rotaractors will build the future together, so let's start today.
I see no difference between a Rotary club and a Rotaract club, except perhaps for the average age!
Many Rotarians still view Rotaract as our youth organization, but I see it differently. For me, they are part of us, and they are like us. To be successful together, we need to have mutual respect — to see each other as equals. Let's see Rotaractors for who they really are: students and young leaders, but also successful managers and entrepreneurs who are capable of planning, organizing, and managing a Rotary institute — including breakout sessions in five languages — as they did in Berlin in 2014.
As we take this journey together, let's remember the strengths of Rotary and Rotaract. And, as Louie says, let's get started right away in building the future together. In doing so, we open endless opportunities for our organization.
Presidential message February 2021
In Rotary, 23 February is our anniversary, and February is also the month when we focus on promoting peace. There is a reason for this: Contributing to peace and international understanding has been a high priority for us since our earliest days.
We are often asked: "How can we get involved in peace now?" There are many paths to peace in Rotary. Our youth programs point us in the direction of Positive Peace, as does the work of intercountry committees and the Rotary Action Group for Peace.
Another path is the Rotarian Peace Projects Incubator (RPPI), an inspirational collaboration among Rotarians, Rotaractors, and Rotary Peace Fellows and alumni. Led by Rotarians in Switzerland and Liechtenstein, RPPI has designed 48 global projects that any club can support, either directly or through Rotary Foundation global grants. Nino Lotishvili and Matthew Johnsen, alumni of the Rotary Peace Center at Chulalongkorn University in Bangkok, Thailand, are two of the many volunteers.
During my Rotary peace journey, I have learned how personal resilience helps build inner peace and create sustainable outer peace. This was the inspiration behind the Women Peace Ambassadors for the South Caucasus project, which is based on my field research in Georgia. The RPPI team of Rotarians and peace fellows recognized the incredible potential of women from mixed-ethnicity families who live on borderlands to be role models for peace within and beyond their communities. Through workshops on building inner and outer peace that draw on the power of storytelling, 40 participants will be sharing their stories and reaching around 400 extended family and community members. These inspiring but marginalized women will reclaim their inner strength as peacebuilders at the grassroots level. In this way, we will take steps toward the sustainable, peaceful society we need so much, not only in our region, but throughout the world. — Nino Lotishvili
I was excited to join the peace incubator project and to further strengthen my ties with Rotary's peace community by working with past and current peace fellows to develop these proposals. My team wrote five proposals — three in Bangladesh, one in Iraq, and one in Poland — that focus on the arts and on education to generate dialogue across religious divisions and avert the radicalization of young people. I was inspired by how, despite the pandemic, we came together via technology with a vision to develop, test, and strengthen ideas and to produce workable solutions that clubs across the world can support to advance peace. I am excited to work with Rotary's peace community to transform these visions into reality. — Matthew Johnsen
Here is further proof that in Rotary, we prefer action to words. This is Rotary at its best. I encourage you to visit rppi.ch to explore the projects and support them.
We have lasted 116 years because of our strong ethics, our passion for Service Above Self, and our unique approach to problem-solving. One of our greatest strengths is how we reach across our communities and across national, ethnic, religious, and political divisions to unite people of all backgrounds and to help others. This month, let's celebrate our history and the many ways that Rotary Opens Opportunities to advance world understanding, goodwill, and peace, our ultimate mission.
Presidential message January 2021
January is finally here. As we look forward to 2021, our thinking doesn't have to stop at the end of these 365 days. Are you thinking ahead about what you will be doing in 2022, 2023, and beyond?
We cannot foresee the future, but we can steer ourselves where we want to go. I think it is important that every Rotary club hold a strategic meeting at least once a year. Past RI Director Greg Yank, who has a lot of experience working with clubs on their plans, shares his viewpoint.
A famous aphorism states, "By failing to prepare, you are preparing to fail." Planning is essential to achieving success in all areas of life, including Rotary, and we're getting better at it every year.
Strategic planning for Rotary clubs works. I have helped many clubs find that pathway by working with them to build what I call a blueprint, a multiyear plan that answers the fundamental question: "What is our vision for our club?" The best plans I have seen are those that are focused, when a club concentrates its resources on the best opportunities it has. Your Rotary club cannot be all things to its members and to the community it serves; it has limited human, financial, and time resources. A successful plan factors in assets and limitations to chart the desired pathway for your members.
Begin building a multiyear strategic plan by brainstorming with your club, asking, "What are our initiatives and priorities for the next two to three years?" Document your answers using action-oriented language that is specific, concrete, and measurable about the goals you want to achieve.
Next, narrow down your initiatives to a core set of three to five priorities. Your club will then develop specific objectives for each initiative, outlining who will be involved, key milestones of achievement, how progress will be tracked, and a timeline for completion. Keep your plan short and simple.
Then go out and do it. Review the progress you make toward accomplishing the initiatives, and revise as needed at least once a year. Rotary has a solid template to assist clubs in their planning, which you can find at my.rotary.org/en/document/strategic-planning-guide.
We want to enrich and enliven our clubs with new discussions and ideas. But how do we attract the diverse professionals, from different backgrounds, ages, and experiences, who are all driven by as strong a sense of integrity as we are?
Through strategic planning, we explore this question to define the very nature of our club and the value it offers to its members and to the community. Each club is different, and each club's value will be unique. During the planning process, clubs may also find that some of the activities they used to do are no longer relevant or attractive.
Once your club makes a strategic plan, it's time to take action and carry out the necessary changes. When we do that — as we engage members in vibrant and active clubs that not only have fun but also serve their communities with projects that have real and lasting impact — our clubs grow stronger. And when we discover what makes our own clubs unique and build upon those core values in all our efforts, Rotary Opens Opportunities to enrich the lives of everyone.
Past RI Director Greg Yank died on 5 January, 2021, shortly after the publication of this letter. A member of Rotary Club of O'Fallon, Illinois, Yank served on the RI Board of Directors from 2017-2019 and was a recipient of the Service above Self Award in 2014. RI President Holger Knaack would like to express his profound sympathy to Yank's family and friends.
Presidential message December 2020
As I look back on 2020, I reflect on how our lives have changed. The global COVID-19 pandemic brought pain and loss to many of us. And for almost all of us, our daily lives, family time, and work also changed this year. But we've made it to the end of this difficult year, not on our own but by reaching out to one another, as we always do in Rotary. With each passing year, I become prouder of our organization.
I will choose to remember 2020 as a year of great change and strength for us; Rotary didn't stop, despite the pandemic. We removed obstacles, found new ways to connect, and embraced new approaches to service, such as online projects and virtual fundraising. I have invited two Rotarians to share their stories about how Rotary grew stronger this year.
When the pandemic shut everything down, our emerging e-club was already providing digital service, including internationally. Fourteen U.S. women and I, members of multiple Rotary clubs, were using WhatsApp to mentor women entrepreneurs in rural Costa Rica, helping them to grow their ecotourism business, RETUS Tours [the subject of the magazine's May cover story, "Nature & Nurture"]. The project has grown, with 30 Rotarians now providing consulting and help with the RETUS website and social media. Most importantly, we continue building relationships and empowering these women to transform their own lives, and we are doing it online. I've even helped one of the women, Rosa, prepare a presentation in English for an online international conference. While our engagement with the Costa Rican women still requires some hands-on activity, the most transformative impacts haven't had to be in person.
— Liza Larson, Rotary E-Club Engage and Rotary Club of Plano East, Texas
I was president of my club when COVID-19 hit, and many members didn't yet have Zoom. Only 10 of our 53 members participated in the first Zoom meeting during the pandemic. I thought that reaching out and getting guest speakers from around the world to engage our members would help. Many Rotary leaders, a Rotary Peace Fellow, and even RI President Holger Knaack visited virtually and spoke to our club. Meeting attendance improved, while we reduced running costs by cutting out meals. Some members who worked outside our city and had missed our meetings even rejoined us. Registering our online meetings on My Rotary enhanced contacts with clubs across the world, and the joint meeting addressed by Holger attracted more than 300 visitors. We also raised more funds as members and visitors contributed to our projects. To continue being flexible for all, we are now offering hybrid meetings. For me, 2020 has been the best year in Rotary as I've made many new friends.
— Blessing Michael, Rotary Club of Port Harcourt North, Nigeria
These stories should give us all reasons to be optimistic about Rotary in the year ahead. We are not just surviving; we are gaining strength. We are discovering how resilient our organization truly is. We are seeing for ourselves how Rotary Opens Opportunities — even during pandemics — to grow, connect, and engage our members and the communities we serve.
From our home in Ratzeburg to yours, Susanne and I would like to bid you and your family the warmest of season's greetings. We can't wait to see the good things that 2021 will bring.
Presidential message November 2020
We all know Rotary's tremendous power to transform our communities and ourselves. However, in every community, people have been left out, and we have not made a strong enough effort to reach them.
The RI Board of Directors is taking action to make Rotary more welcoming and diverse. We formed a task force to promote diversity, equity, and inclusion to help clubs attract new members regardless of gender, race, religion, age, or other factors. This will help us speed up the change we all want and need. The selection of Jennifer E. Jones as Rotary president for 2022-23 — the first woman to lead our organization — is another step in this direction.
At the grassroots level, clubs drive inclusion and diversity. Alia Ali — who serves on the board of directors at the Big West Rotaract Multidistrict Information Organization and is a Rotary Youth Leadership Awards alumna and past president of the Rotaract Club of Surrey-Newton, British Columbia — offers her perspective.
I still remember the relief I felt as a RYLA participant four years ago. I had finally found my people: people who cared as much as I did. All over the world, Rotary has the same heart. We serve our communities and take action where others feel paralyzed by the size and scope of a problem.
Let's continue that spirit, especially when the conversation is difficult. Racism, prejudice, and discrimination take on different forms but exist in every country, in every city, and in every person. How do we root it out?
As a diversity, equity, and inclusion consultant, I help organizations create a culture that empowers and attracts everyone using the power of empathy. When we feel with others as if they were ourselves, we cannot hold prejudice in our hearts. When every child reminds you of your own child, when every woman or man reminds you of your mother or brother, you start seeing the world differently.
We can apply The Four-Way Test through the lens of empathy. Are we building goodwill and friendship with everyone in our area, including women? Are things fair and beneficial to people of all ages? Who has to make choices that you don't have to make?
I made a heartbreaking choice between Rotary and my religion when a Rotary convention was held during Ramadan. I wondered: When we ask if this is fair and beneficial to all concerned, did that not include me as a Muslim? Would the convention ever be held over Easter? Only by asking difficult questions can we begin the work of creating a more inclusive and diverse Rotary.
We already connect so many people across the world. Imagine the possibilities when we bring even more people along for the ride. That's the future of Rotary I want to see: one where we are unstoppable in our service, relentless in our kindness, and intentional in the change we want to see.
Rotary has a big enough heart. If we open our door wider, we might find a lot of interesting people with new voices and new perspectives. We already have a variety of clubs offering different styles, cultures, and opportunities — and those who do not feel welcome in any particular club might be great candidates for new clubs created on different models. It's important that we make sure every new Rotary member is a good fit for their club. Rotary Opens Opportunities through diversity.
Presidential message October 2020
During a recent Zoom meeting with Rotarians and Rotaractors, I looked at the smiling faces on my screen and realized how much our organization has changed in a short period. It is clear that there is no going back to the "old normal" in Rotary — and I see that as an exciting opportunity!
Innovation and change are happening at so many levels as we rethink and remake Rotary. Rotary's new flexibility is blending with digital culture to drive change in ways that many of us have never seen before. We can learn a lot from Rotarians like Rebecca Fry — who, at age 31, already has 15 years of Rotary experience.
I see Rotary as a phenomenal platform to change the world. I believe I can have the greatest influence by empowering others to create the change they wish to see in the world. I've gained leadership insights through my experiences in RYLA and Rotaract, and now, as charter president of the Rotary Social Impact Network, a new e-club.
Engaging Rotary program alumni is key in forming new clubs. Our club is proof that Rotaractors and other alumni want to join Rotary — but sometimes they can't find the Rotary club that's right for them. Our club has 31 members, all between the ages of 23 and 41, and almost all of them are alumni of Rotary programs.
We need to be able to integrate and align Rotary with the other personal and professional goals we're pursuing. In chartering this club, we set out to design a personalized model of Rotary that is focused on added value for our members. We have also sought to leverage connections — through Rotary Fellowships, Rotary Action Groups, and other international partnerships — in order to elevate our members' experiences beyond the club.
Our club meets and manages most of its projects online, using Microsoft Teams to engage 24/7 in topics that interest our members. This also means our club is not geographically bound to any one location: Although many of us are in Australia, we also have members in Germany, Italy, Mexico, Tanzania, and the United States.
Also key for our club is measuring the impact of our projects. For Plastic Free July this year, we created an awareness campaign promoting ways that individuals could reduce their use of plastics, and we reached more than 6,000 people. It's a project with a tangible impact that anyone can take part in wherever they are. I'm proud that, through our club, we are bringing people together for a new type of Rotary experience. I am excited for our future.
All Rotary clubs have the opportunity to be innovative clubs, just like Bec's club. Let's trust those clubs, learn from them, and lend them our support. Change in Rotary happens at the grassroots level, as clubs lead the charge, defining what this new Rotary can be.
Change is constant, and we have more work to do in many areas. It is important that we celebrate the contributions of people of all backgrounds and promote people from underrepresented groups so that they have greater opportunities to participate as members and leaders in Rotary.
The tools to make Rotary more inclusive, more relevant, and more fun for everyone are at our fingertips. Let's use them now, and we will see how Rotary Opens Opportunities for ourselves and for those yet to discover us.
Presidential message September 2020
Rotary youth exchange — one of the many programs for youths and young adults that we celebrate this month — was my path into true engagement in Rotary. My wife, Susanne, and I began hosting exchange students soon after I joined, and the experience helped me go from simply being a member of my Rotary club to being a true Rotarian. Now Rotary Youth Exchange is a family tradition, and a strong one: Over the past 24 years, we have hosted 43 students!
From the start, we loved it so much that, in addition to hosting students in our home, we became involved with the program by helping to organize student summer camps. During one such camp, I met Christine Lichtin, who was a German high school student at the time and whose father is a past president of my Rotary club. To try something new during this year of embracing change, I am turning this space, normally reserved for the president of Rotary, over to Christine so she can share her story.
My first contact with Rotaract was about 13 years ago, when I was with Susanne and Holger at a barbecue for the summer youth camp. Holger turned to me and said: "Why don't you visit a Rotaract club? You'll meet a lot of great young people who come together to have fun and to make a difference."
A few years later, when I was at Trier University, his words came back to me and I decided to give it a try. That was more than eight years ago, and I'm still at it. Once you are in Rotaract, you just don't want to get out. Rotaract has accompanied me everywhere, starting with the Trier club and then on to a club in Bologna, Italy, during the year I studied there. When I was in Kiel for my master's degree, I got involved with Rotaract there before landing at the Rotaract Club of Hamburg-Alstertal as I began my career. Each of those clubs has its own identity and focus, but all have the same intrinsic motivation.
I am now taking on a senior advisory role in my Rotaract club, which I really enjoy. I carry Rotaract in my heart, and it shapes my values, even as my interests evolve. One day, as if she had sensed this evolution, Susanne knocked on my door, wanting to introduce me to a young, modern Rotary club located between Hamburg and Mölln, my hometown. The E-Club of Hamburg-Connect, which Susanne helped charter, holds e-meetings, all of them very relaxed and personal. With members of different ages, everything just seemed to fit, so I thought, why not try it out? After all, time is precious and should be filled with fun whenever possible; the rest happens by itself.
Now I am in both worlds — a proud member of Rotaract and a Rotarian. And my small personal goal is to build a bridge between these two parallel worlds. All of us have very similar reasons for being part of the Rotary family.
It took some persistence to persuade Christine to become a member of Rotary, but it was well worth the effort. It is our duty to put in this kind of effort with youth program participants and Rotaractors so we can keep them in the family of Rotary. I hope you were inspired by her story. It's up to each of us to ensure that more young people like Christine can experience the many ways Rotary Opens Opportunities for us and for the people we serve.
Presidential message August 2020
The year 2020 has brought monumental changes that have already included a global pandemic and a renewed call for social justice. We are reminded that we live in a constantly changing world, and Rotary is a reflection of that world.
We must be ready to listen and adapt, always drawing upon our core values of service, fellowship, diversity, integrity, and leadership. If we live these values and apply The Four-Way Test to all aspects of our lives, we will be prepared to lead at all times.
I am proud of how we have proven our ability to adapt. Faced with a pandemic, Rotary has not stopped. We moved meetings online and found new ways to serve. We turned the canceled 2020 Rotary International Convention in Honolulu into our first virtual convention. Each week, we are proving that Rotary is a flexible gathering that happens anywhere — in traditional meetings, on cellphones, and on computers. Rotary offers a way to connect for everyone who wants to, at any time, and will continue to do so.
Some have even told me that they enjoy Rotary's mix of online and in-person meetings more now than before! How can we build on this momentum and seize the opportunity to embrace change so that Rotary keeps thriving?
For me, supporting new types of clubs is key. They are no longer just experiments but a real part of Rotary today. In addition to traditional clubs, we have e-clubs, Rotaract clubs, cause-based clubs, and passport clubs. These help make Rotary more inclusive, more flexible, and more attractive to new members. Visit these clubs, exchange ideas and partner with them, and promote them to one another and to our communities.
We all agree that we need to grow Rotary, but sometimes we can get caught up in the numbers game and lose sight of the bigger picture. After all, an increase in membership is meaningless if next year, those new members leave our clubs. Let's grow Rotary sustainably. Rotary's flexible options for participation will engage members and show the community how we're different from any other club. Let's celebrate that Rotary is now less about rules and more about joining together in a variety of ways besides traditional meetings.
I recommend that each club hold an annual strategy meeting to ask — and honestly answer — if we are doing all we can for our members and if our club reflects the community we serve. We are taking this approach at the international level, too. I am proud that six women are serving with me on the RI Board of Directors this year, the most we have ever had. Let's keep Rotary moving in this direction at every level. We need more perspectives, more diversity, for Rotary to thrive.
It's fascinating to imagine how we will find new ways to adapt and stay nimble this year and beyond. But I am also inspired about what hasn't changed and never will in Rotary: the friendships, the networking, the ethics, and the service. Indeed, these are the values that make Rotary attractive to all.
As Rotary's founder, Paul Harris, said, we have to be revolutionary from time to time. Now is such a time. Rotary Opens Opportunities — countless ones — for us to embrace change that will strengthen us even as we remain true to our core values.
Presidential message July 2020
This does not seem like a time for great optimism, but it has to be. Long before Rotary was founded, the world dealt with great crises that tested humankind's ability to progress and endure. In the age of Rotary, the world has faced many more catastrophes; however, we have survived, and every step of the way, Rotary has helped the world heal.
Every great challenge is an opportunity for renewal and growth. I revealed the theme of Rotary Opens Opportunities at the International Assembly in San Diego just as the COVID-19 crisis was beginning, but these are words that I have believed for many years.
Rotary is not just a club that you join; it is an invitation to endless opportunities. We believe in creating opportunities for others and for ourselves. We believe that our acts of service, large and small, generate opportunities for people who need our help, and that Rotary opens opportunities for us to live a richer, more meaningful life, with friends around the world, based on our core values.
Governments and institutions are gaining a greater appreciation for the types of public health partnerships that are critical to our work. People stuck at home, eager for greater connections and hungry to help their communities, are now embracing the values we have promoted since our beginning.
All of this is positive news, but just because there are greater opportunities than ever for Rotary to thrive does not guarantee that we will succeed. The world is changing rapidly — and was doing so even before this crisis. People were starting to move away from regular lunch meetings and toward online gatherings. Friendships were being cultivated and revived in social media relationships even before most of our meetings moved to Zoom and Skype. Younger generations have a strong desire to serve — but have questioned whether they could play a meaningful role in organizations like Rotary or whether they might make a bigger impact forming different types of connections. Now is the time to put everything on the table, test new approaches, and prepare Rotary for the future.
The COVID-19 crisis has forced all of us to adapt. This is good, and our new Action Plan specifically calls on us to improve our ability to adapt. But adaptation is not enough. We need to change, and change dramatically, if we are to face the challenges of this new age and provide the Rotary the world so desperately needs.
This is our great challenge, not just in the next year but into the foreseeable future. It is up to us to remake Rotary for these new times — to wholeheartedly embrace the ideas, energy, and commitment of young people eager to find an outlet for idealism. We must become an organization fully enmeshed in the digital age, not one that simply looks for online ways to keep doing what we have always done.
The world needs Rotary now more than ever. It is up to us to make sure that Rotary Opens Opportunities for generations to come.